Hello blog-o-sphere! Allow me to introduce myself… My name is Caitlin Brooks and I'm currently a sophomore student at the University of Louisville. I am majoring in Communications and focusing my classes around public relations and social media in the hopes of becoming a strategic communicator for a large company in the future. I grew up in the small town of Maysville, KY, so living in Louisville is a drastic change for me. Although many of my high school classmates (and even myself at times) complain about our hometown being the most boring, Mayberry-esque place on this side of the Mason-Dixon line, Maysville is actually a pretty neat and historic place. In fact, Maysville is the hometown of the following people:
Rosemary Clooney (her debut film "The Stars Are Singing" premiered at the Russell Theatre in downtown Maysville)

Darius Miller (former UK basketball player and currently playing for the Iowa Energy)

Chris Lofton (former University of Tennessee basketball player and current professional basketball player)

Heather French Henry (Miss America 2000).
Sure, the only thing to do in Maysville is to stay home or go to the run-down four cinema movie theater. But, Maysville is an important part of me and has shaped my personality and who I am today. And did I mention George Clooney (Rosemary's nephew) and Renée Zellweger came to Maysville to premiere their movie "Leatherheads"? Yep, that happened.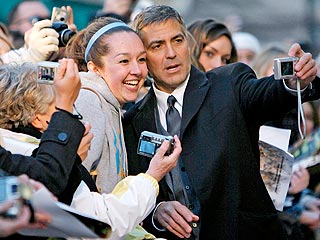 Being raised in a small town has made me thirst for knowledge from bigger places…like Hollywood and New York. I love popular culture, and I credit that to my hometown. My love for popular culture is what got me interested in communications in particular. Remember earlier when I said I hoped to work for a large company as a strategic communicator? Well, the company I have in mind is The Walt Disney Company. You guessed it; my ultimate dream and goal in life is to work for "The Mouse" himself. Disney has always been a big part of my life and has given my family and me so many happy and magical memories; I hope to be a part of the company who creates happiness for people all over the world like it's nobody's business.

Since this is my first blog, I should set a few goals to help myself stay focused and organized. My goals for this blog are pretty simple:
1.
Write about topics such as social media and public relations as well as other interesting topics like Disney, animation, theme parks, etc.
2.
Keep up with the blog throughout the remainder of my college experience and beyond! (Buzz Lightyear voice).
3.
Keep my readers interested!

So now that you know a little bit about me and what this blog will be like, I'd like to hear from you! Feel free to post comments and ask me questions about social media, UofL, Disney, etc. I hope you've enjoyed your stay here at my blog!

Have a magical day!